Wat is een Lean Coffee?
Lean Coffee is een gestructureerde, maar agendaloze bijeenkomst. Deelnemers komen samen, maken een agenda, en beginnen met praten. Gesprekken zijn gericht en productief omdat de agenda van de bijeenkomst zelf door de deelnemers is gecreëerd. Centraal staan leren en samenwerken doormiddel van groepsdisccusies.
Hoe werkt een Lean Coffee?
1. Maak een simpel Kanbanbord
Dit bord vormt de agenda en geeft structuur aan de conversaties. Het bord heeft drie kolommen (te bespreken/in bespreking/besproken)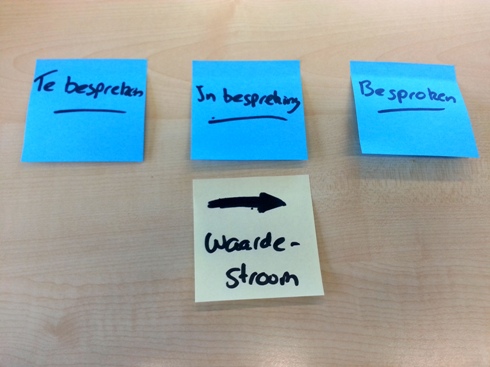 2. Bepaal wat je wilt bespreken
Iedereen krijgt een pen en post-its waarop ze hun onderwerpen of vragen kunnen opschrijven.
Deze worden vervolgens in de kolom "te bespreken" gehangen. Wanneer er voldoende onderwerpen hangen krijgt een ieder de mogelijkheid om in 1 of 2 zinnen hun onderwerp toe te lichten. Zo weten mensen waarop ze kunnen stemmen.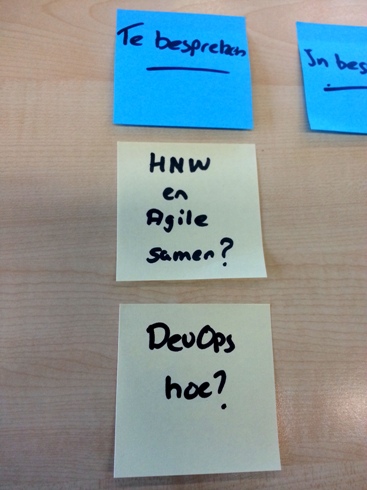 3. Stem en praat!
De laatste stap is stemmen op de onderwerpen. Iedereen krijgt twee stemmen.
Je kan de twee stemmen uitbrengen op één onderwerp uitbrengen of ze verspreiden over twee.
Het aantal stemmen bepaalt de volgorde van de onderwerpen in de 'te bespreken' kolom.
Zo ontstaat er een agenda waarin iedereen geïnteresseerd is. Men kan starten met praten.
Wanneer een onderwerp besproken is wordt hij in de laatste kolom "besproken" gehangen.
Onderwerpen kunnen getimeboxed worden op 15 minuten.
For the English version see: http://leancoffee.org